This article is a stub. You can help the Funhaus Wiki by expanding it.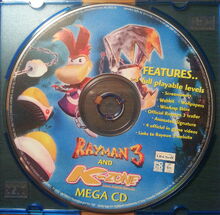 Demo Disk is a series which explores the wonderful world of game demos distributed by gaming and PC magazines throughout the 2000's. All the games on display were provided by a fan who was eager to donate their expansive collection with the Funhaus crew. [1]
Common tropes in these videos include the following:
Bruce attempts a theme song for Demo Disk eventually resorting to the use of copyright materials
The gang make jokes about Adam's disc drive being an external Memorex disc drive
Adam stalls for time by searching and playing browser based flash games and or just simply browsing porn
Lawrence pipes in some two-cents about the game demo they're attempting to play
Bruce never leaves a disk unbroken
John comes to break a disk in some whacky way
Adam 'rebounds' a disk off of random objects before landing in the Xbox 360 disk tray; James and Bruce always seem surprised
The list below contains hyperlinks to each episode, time stamps to each working game per video, and even links to *most* of the flash games they play in waiting for the demos to copy from the disc drive. Actual disc breaks will not be time stamped unless otherwise requested or will be put off until a compilation video comes out around the end of Demo Disk (we hope).
List of Games (Not Up to Date)
Edit
And then a bunch of porn happened
Featuring "Uptown Disk" to the tune of "Uptown Funk" by Mark Ronson and Bruno Mars
Featuring "Play That Demo" to the tune of "Say It Ain't So" by Weezer
Featuring "Demo" to the tune of "Focus" by Ariana Grande
Featuring "Fallout" to the tune of "Sorry" by Justin Bieber
Bieber flash games
The rest is Aliens porn
Featuring "The Most Wonderful Time of the Week" to the tune of "The Most Wonderful Time of the Year" by Andy Williams
Featuring "Demo Bling" to the tune of "Hotline Bling" by Drake (Lyrics in video description)
Featuring "My D-demo" to the tune of "My Sharona" by The Knack (Lyrics in video description)
Featuring Bruce Greene officially stopping the song covers, thus being the first tradition of Demo Disk to be cancelled
Immediately begins other tradition of going into pornography to fill time
Can we consider this round of Rule 34 as literal fan service?
References
Edit